5 ingredient Chicken Gnocchi with Alfredo Pesto
A friend of mine introduced me to this delicious 5 ingredient chicken gnocchi with alfredo pesto dish and since having it, there is no looking back!  This has been added to our rotation of favorite family dinners.  It's warm and comforting and comes together quickly.
I've been on a kick of making chicken Alfredo meals (like my 5 ingredient Instant Pot chicken Alfredo or this chicken broccoli Alfredo freezer meal) because the combination of chicken and a creamy sauce and pasta is just so so good. Bonus-these cooked meals make amazing freezer meals!
So when my friend (who is a self-proclaimed "not good" cook) told me about how she makes and loves this chicken gnocchi with alfredo pesto dish, I just had to get the recipe. I made it, and oh my goodness, it was an easy dinner with only 5 ingredients. 
One of my favorite meal prep tips is to make a whole lot of plain chicken on Sunday and keep it in the refrigerator for the week ahead.  This way, I can use it to throw on salads, add a marinade and use it with a recipe or use it for this meal!  
If you have chicken prepared ahead of time, this is one of the fastest warm dinners you can get on your plate (start to finish about 15 minute – yay for easy 15 minute meals). Gnocchi only take about 4 minutes to cook (they pop to the top of the water when they're done cooking).  Then you just mix and warm the rest of the ingredients.
In this 5 ingredient recipe, I like to use the pesto to cut the creaminess of alfredo sauce.  I know not everybody loves alfredo so this is a nice way to add some additional layers of flavor. Side note – I have an amazing homemade alfredo sauce recipe (made with yogurt) in my 5-Ingredient cookbook!
Plus, look how beautiful the dish is when it all comes together!
I use two packages of gnocchi when making this meal, so I have plenty of leftovers for meal prep workday lunches.  Keep in mind that this meal will need to be microwaved at lunchtime.  So, when I pack lunches for Nick and I, I make sure to put side items that can be easily removed from the lunch container.  For example, string cheese and an apple.  I can simply take those items out of the container before microwaving.  That way Nick isn't standing there by the microwaves holding something weird in his hand while the gnocchi leftovers reheat lol.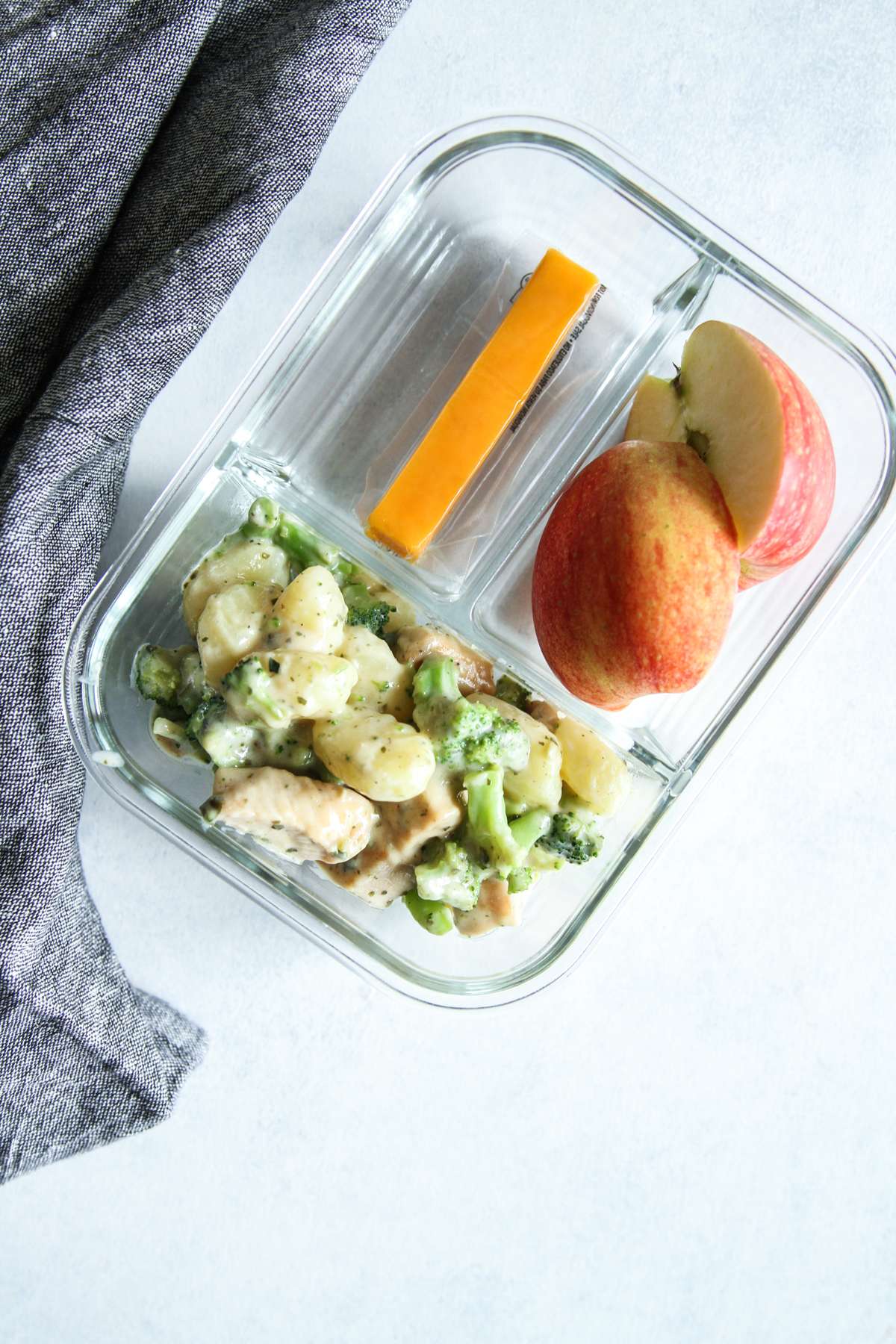 When I'm packing lunches, these are, by far, my favorite (and the BEST) glass containers to pack lunches in.  I use them to pack snacks for the kids as well. 
Not only do I love leftovers of this meal for lunchtime, I also always set half of this meal aside right away and put it in a pan for the freezer.  Then, on busy nights, I can simply pull it out of the freezer and have a great freezer meal on the table for my family to enjoy!
Yield: 6 servings
5 ingredient Chicken Gnocchi with Alfredo Pesto
This 5 ingredient dish is a great weeknight meal that will yield leftovers to bring for lunch later in the week and makes a great 5 ingredient freezer meal for a later time.
Ingredients
1.5 lbs. chicken breast, cut into 1 inch pieces
2 packages gnocchi (16 oz. each)
1 (12.6 oz.) bag frozen broccoli
1, 15 oz. jar alfredo sauce
1/4 cup pesto
Instructions
Cube chicken and add slat and pepper. Saute in a large pan. You can also bake, if you prefer.
Bring a large pot of water (with a generous pinch of salt in it) to boil. Add gnocchi. Gnocchi is done cooking when it rises to the surface of the pan. Drain and set aside.
Make broccoli according to directions on bag.
Add gnocchi and broccoli to pan with chicken in it. Pour alfredo sauce and pesto on top and stir.
Enjoy!
Notes
Pesto is used to help cut the creaminess of the alfredo sauce. You may add more or less to suit your taste.
Nutrition Information:
Yield:
8
Serving Size:
1
Amount Per Serving:
Calories:

503
Total Fat:

31g
Saturated Fat:

16g
Trans Fat:

1g
Unsaturated Fat:

12g
Cholesterol:

153mg
Sodium:

677mg
Carbohydrates:

18g
Fiber:

1g
Sugar:

1g
Protein:

37g
This data was provided and calculated by nutritionix
The post 5 ingredient Chicken Gnocchi with Alfredo Pesto appeared first on Sweetphi.