Attention, Attention: It's Time For Bigelow Iced Tea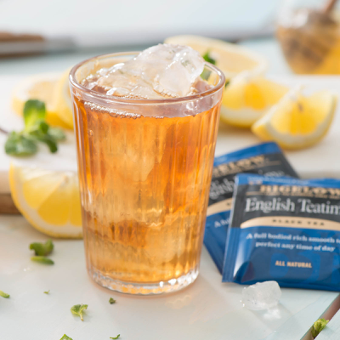 The sun is out and you know what that means! Bigelow iced tea – all day, every day. With the sun peeking out and the temperatures rising, it is safe to say nice weather is on the way… who else is excited?! Longer days, warmer skin, cooler drinks… Mmmm. Here we go! And, of course, nothing says nice weather quite like a tall glass of the good stuff.
But, first, how about a spoonful of history about iced tea? Richard Blechynden has often been attributed with making the first iced tea at the World's Fair in St. Louis in 1904. As sales for his hot tea dropped while summer temperatures rose, he purportedly poured tea over ice to entice fairgoers. Some dedicated research tells another story, though, with iced tea's roots reaching as far back as 1879, when Marion Cabell Tyree created a recipe for green tea over ice, which was published in a community cookbook called Housekeeping in Old Virginia. Later, in 1884, another recipe for iced black tea surfaced from the Boston Cooking School. These days, while iced tea is still extremely popular during summer, the classic drink is enjoyed year 'round.
If you're interested in making the perfect glass of iced tea, look no further than these special tips given by Bigelow Tea president and CEO Cindi Bigelow. And while you're looking for iced tea tips, here's a fun one: Try freezing some tea in an ice cube tray. Then use ice tea cubes in place of regular ice cubes to keep iced tea cool, fresh and extra flavorful!
Wondering which Bigelow Tea flavors to use? The good news is that every flavor is great over ice! But if you're seeking a few top-notch recipes, you'll want to check out Bigelow Blackberry Mint Iced Tea, Pomegranate Blueberry Iced Tea, Lemon Blueberry Mint Iced Tea, and Peach Chai Iced Tea. Sounds so refreshing, right?! We'll take one of each, please!
Are you looking forward to making a batch of iced tea soon?? Share your favorite recipe with us and tag with #TeaProudly