Easy chimichurri sauce that is creamy and takes just 10 minutes to make! Perfect for adding to grilled vegetables, veggie burgers, and more!
(Gluten-Free, Low-Carb, Plant-Based and Vegan)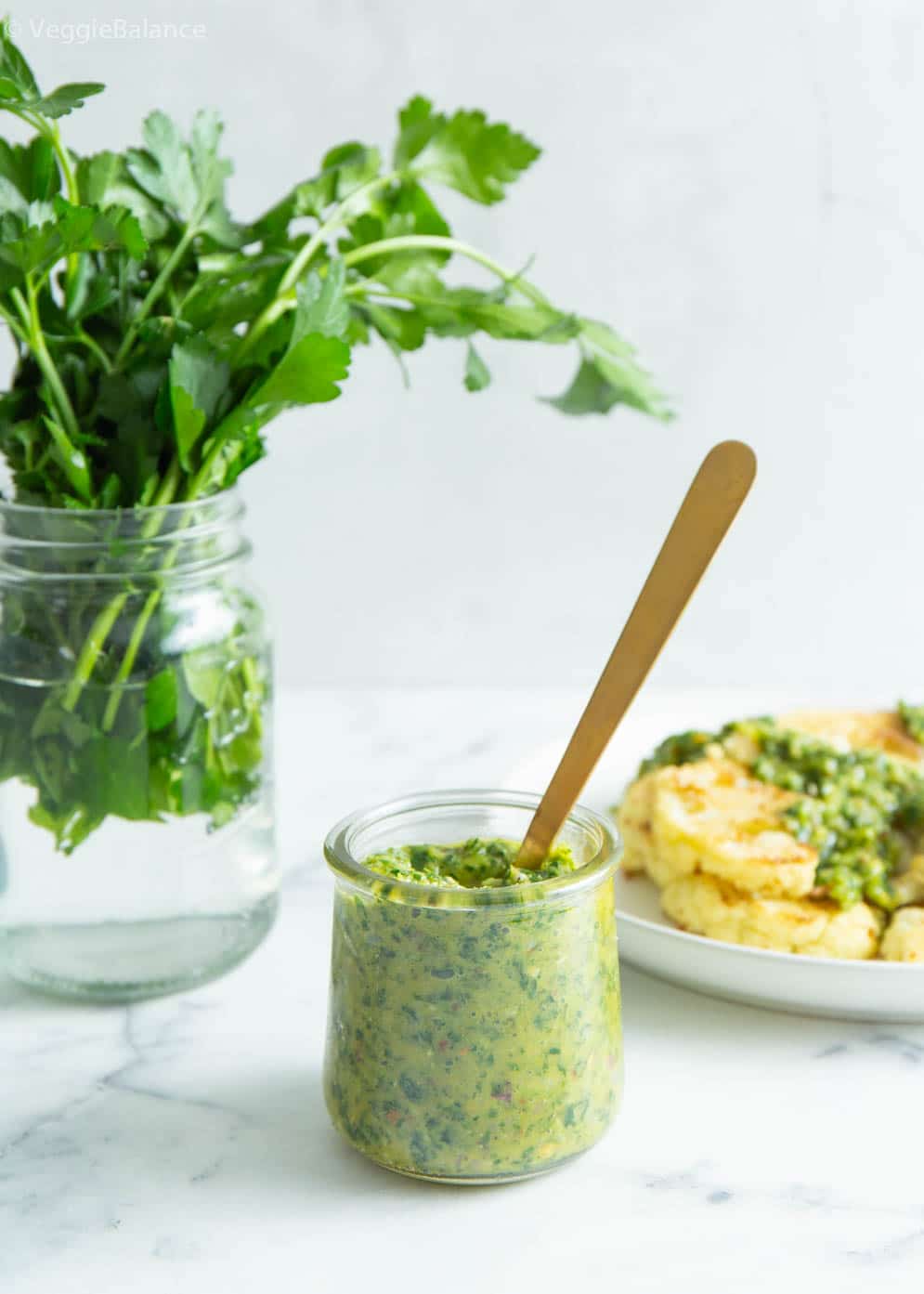 Whether you are or are not familiar with chimichurri sauce you are going to be now and it is a necessity that you try it because it is SO GOOD.
Takes just 10 minutes and 10 simple ingredients to quickly whip together and all natural goodness is slathered over your favorite dish.
What is Chimichurri Sauce
Chimichurri is made from fresh parsley, cilantro and a few other key ingredients. It originates from Argentina and has become a favorite around the world in over the years.
What does chimichurri sauce taste like?
It's a fresh zesty, zingy with a tad bit of heat. It really is an overall flavor explosion. Even I am not a huge fan of cilantro (I'm one of those people where it tastes like dirt to me) and I actually LOVE chimichurri sauce.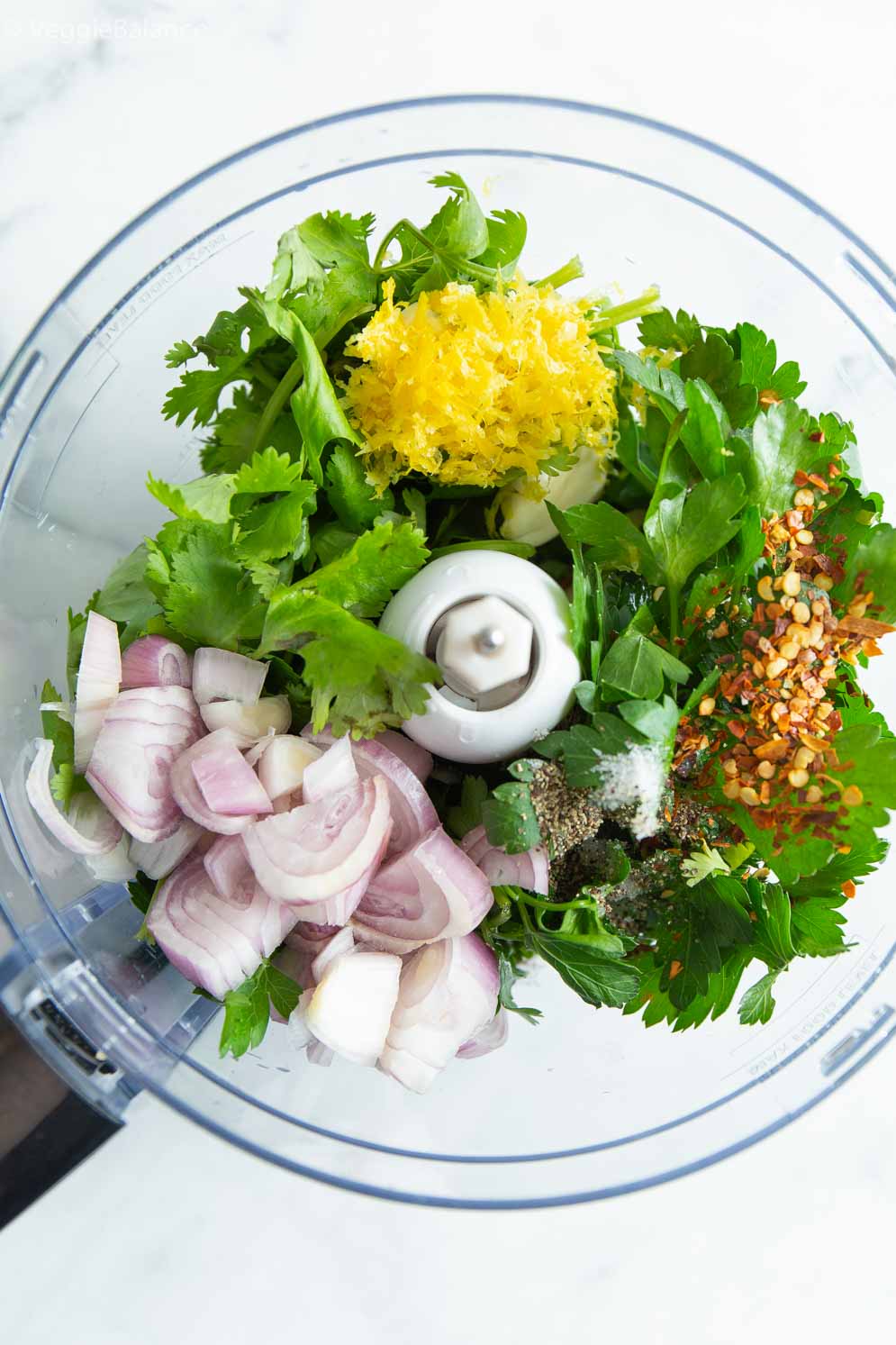 How to Make Chimichurri Sauce
It really is perhaps one of the reasons I love this sauce so much. Like our easy taco sauce recipe it takes just about 10 minutes from start to finish.
For the Chimichurri you'll need either a food processor or blender. A immersion blender can work well also.
You'll need: Fresh parsley, fresh cilantro, shallot, garlic, lemon, vinegar, salt, pepper, red pepper flakes and olive oil
Note: This recipe cannot be use with dried parsley or cilantro. It will not be enjoyable at all. So start early by planting this in the garden this spring to you can make chimichurri allllllll summer fresh from the garden.
What to use chimichurri sauce on
Traditional favorites around the world is using chimichurri on steaks. We personally love it over our cauliflower steaks and really any roasted vegetable you can think of this is divine.
Even add it to our black bean burgers or use our chickpea patties and it is divine.
So really any roasted vegetable, tacos or 'meat' this chimichurri sauce takes it to the next level.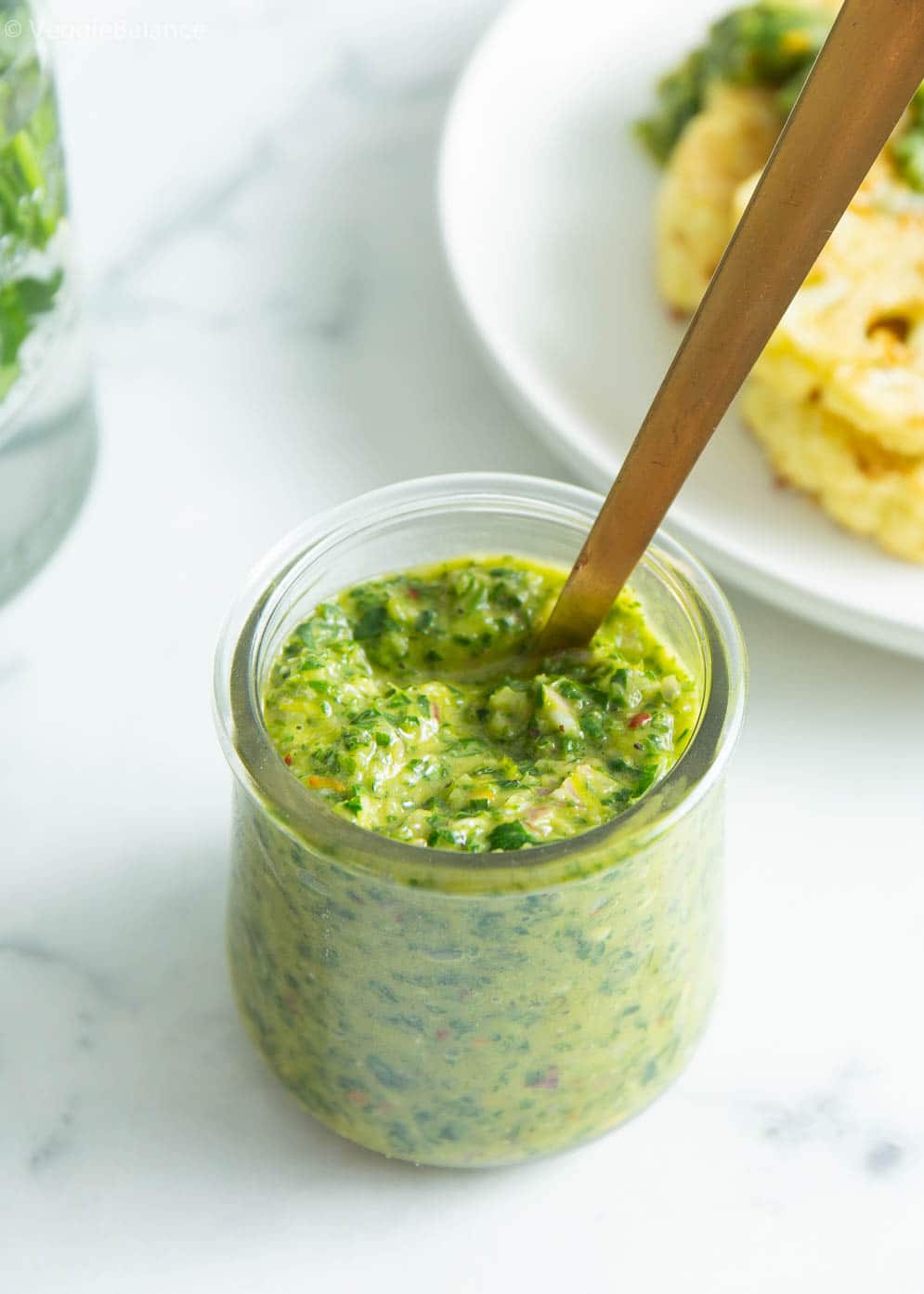 Can you freeze chimichurri sauce
Yes you can! Perhaps one of the huge reasons I love sauces like this. It's made with natural and freezable friendly ingredients.
You can even freeze these in ice cube trays (affiliate link) like these and have dethaw on an individual basis.
Fresh herbs and oils like this can stay frozen in an airtight container up to 1 year. Even more reason why you should plant all the delicious ingredients needed this spring. Whip together all the ingredients that you haven't used up at the end of the year and enjoy fresh chimichurri sauce alllllll year.
I know we are geniuses. We are going to start writing more tips like the above for the future though as we eat less meat in the world I also think it's important we think about ways we can be more sustainable and watch our food waste output.
But now all you have to do is take 10 minutes to whip this together and slather it all over our cauliflower roasted steaks and we are in business.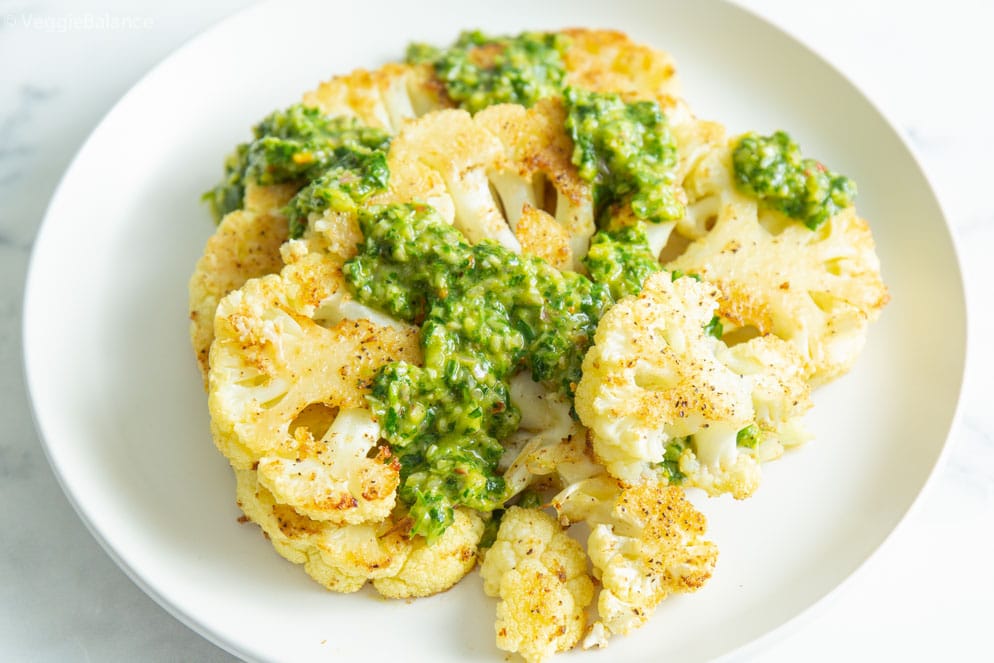 other recipes you might enjoy:
Easy chimichurri sauce
(Gluten-Free, Low-Carb, Plant-Based and Vegan)
Easy chimichurri sauce that is creamy and takes just 10 minutes to make! Perfect for adding to grilled vegetables, veggie burgers, and more!
Yield: apprx 1 cup
Prep Time: 10 min
Cook Time: 0 min
Total Time: 10 min
Ingredients:
1 cup fresh flat-leaf parsley
1 cup fresh cilantro
1 roughly diced shallot
3 cloves of garlic, peeled
zest of one lemon or lime
2 Tablespoons red wine vinegar
¼ tsp sea salt
¼ tsp freshly ground black pepper
¼ tsp red pepper flakes, or more, to taste
1/4-1/2 cup olive oil (start with 1/4 and increase to desired consistency)
Directions:
Combined all ingredients into a food processor except for the olive oil. Pulse approximately 5 times.
Add the olive oil in and pulse until your desired consistency. Stop periodically to scrape down the sides of the processor.
Store in an airtight container refrigerator up to 5 days.
Nutrition Information:
Serving size: 1 TBS
Calories: 35
Other nutrition information: Total Fat: 3.4g , Saturated Fat: .5g , Mono Fat: 2.5g , Cholesterol: 0mg , Sodium: 2.8mg , Potassium: 39.7mg , Total Carb: 1.3g , Dietary Fiber: .1g , Sugars: .4g , Protein: .3g
Recipe, images, and text ©
Veggie Balance
How much did you love this recipe?
Click a star to let me know:





(No Ratings Yet)

Loading...
The post Easy Chimichurri Sauce appeared first on Plant-Based Easy Recipes by Veggie Balance.