Edible Chocolate Chip Cookie Dough
Nothing beats grabbing a spoon and getting a scoop of cookie dough while you're baking. Now you can make your own edible chocolate chip cookie dough without any of the risks!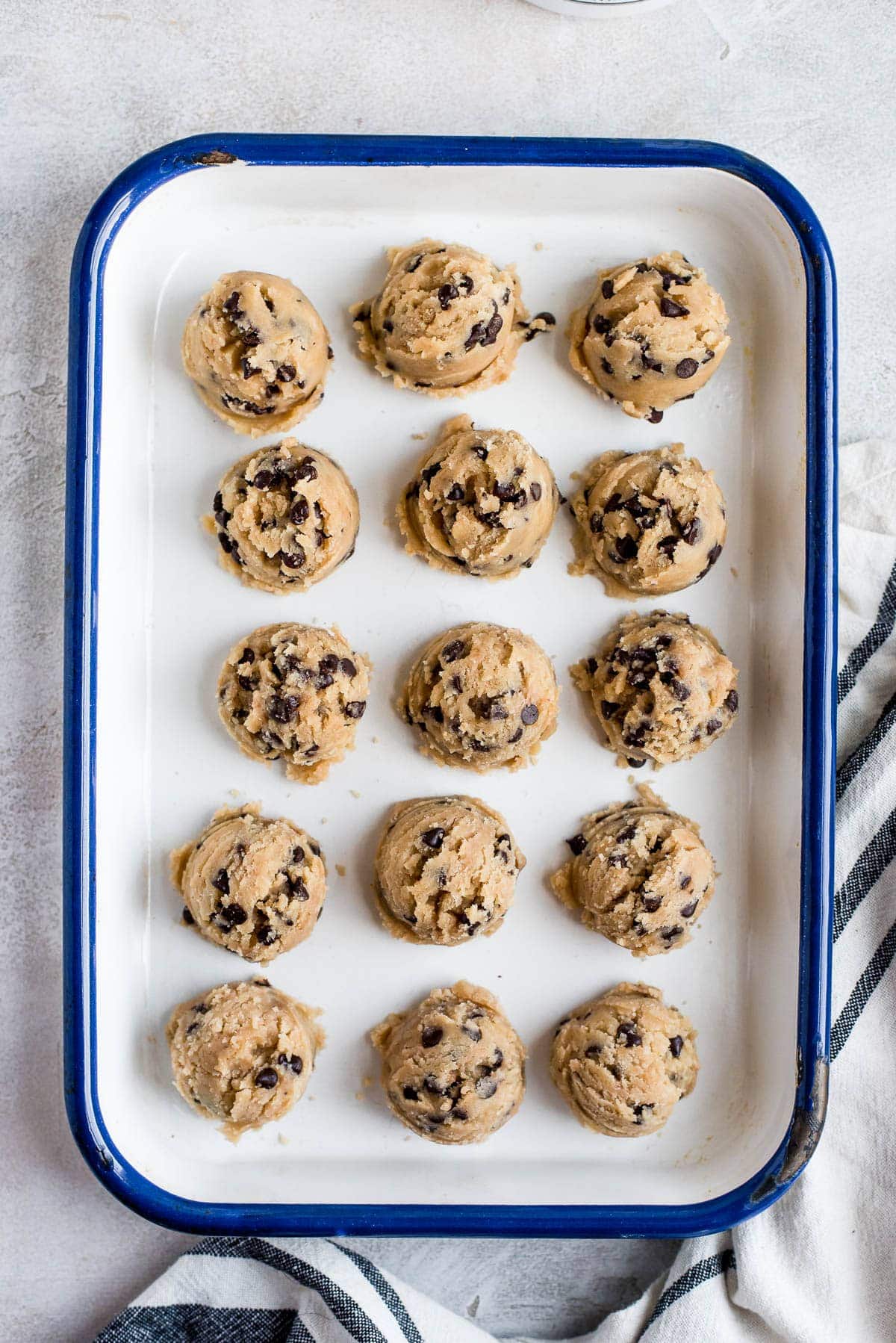 It's pretty clear that I am a cookie enthusiast. Nothing beats a still-warm chocolate chip cookie that practically melts in your mouth and pools of melty chocolate everywhere. Except maybe getting that sneaky scoop or two of the cookie dough while you're baking. 
Whether we admit it or not, we all do it. Maybe it's just a little pinch of the dough as we tell ourselves we are just making sure it's good. Maybe you unashamedly just grab the bowl and eat the dough while you binge Netflix. But, there are risks to eating that dough and we also all know that, too. 
But luckily, there are ways to make safe-to-eat cookie dough, and I have all the information you need right here. 
Is eating cookie dough safe?
If you are looking to eat the raw cookie dough you get from the stores, the answer is no, it is not safe to eat. This is because the flour in the dough is not heat-treated, and there are raw eggs in it. Both of these can put you at risk for getting sick. There are a few brands that are made specifically to eat raw; please check all labels before you try it! 
How to make it safe to eat
There are two things you need to do to make you chocolate chip cookie dough (or any edible cookie dough) safe to eat. 
Heat-treat your grains. All your grains basically go from the field to the mills to the store. So that means anything that may have happened to it on the field is still there in the flour. In most cases, this is okay because the heat will kill anything potentially harmful. Of course, this never happens if you are measuring flour into your dough and eating it just like that. Even boxed mixes aren't safe from needing heat-treatment
Use pasteurized eggs, or better yet, omit them completely. Some recipes recommend using pasteurized eggs or egg whites. This will give you the closest taste to actual cookie dough, and will allow you to bake them if you want. I personally prefer to omit them completely. I am just not a fan of eating raw egg and would rather replace it with another ingredient like cream which will give you the same richness and bring back the moisture you lose when you remove the egg. 
If you follow these changes, your cookie dough will be completely safe to eat, even while pregnant! 
How to heat-treat flour
There are a few ways to heat-treat flour. (You can also buy packaged heat-treated flour online, but it is a bit pricey). Here are two of my favorite methods: 
Microwave Method. Use a microwave-safe bowl and heat your flour for about 4 – 5 minutes. Stir the flour after every minute. ​
Oven Method. This is great if you want to heat-treat larger batches of flour. Preheat your oven to 300 degrees F. Spread the flour in a 9 x 13 baking pan and bake for about 10 minutes, stirring after every 2 – 3 minutes. ​
Once you've heated your flour, allow it to cool completely. If you try to use it while it is still hot, you'll usually end up with gritty cookie dough that tastes floury. Not good. Once the flour is cooled, sift it so it is light and fluffy again. Do not skip this step!
Customizing your dough
This standard edible chocolate chip cookie dough is just the base to get things started. It's perfect on its own, yes, but you can do so much to it. Just let your imagination go wild! Here are a few of my favorite ways to customize it:
Add crushed graham crackers and marshmallows for s'mores
Add in a tablespoon of instant coffee for a mocha flavor
Sprinkle in white chocolate chips, candied pecans, and cinnamon chips for a cinnamon roll-y flavor
Stir in peanut butter and peanut butter cups
Mix in cocoa powder for double chocolate
Add maple syrup and dried blueberries to be reminded of your favorite breakfast 
The only limit is your imagination. Think of this cookie dough recipe like the perfect blank canvas. 
Storage tips
You can leave your dough at room temperature for about 3 – 4 hours, but it will need to be refrigerated after that.  Your dough should always be kept in an airtight container. 
In the refrigerator, it will last for up to a week. 
In the freezer, it will last several months. I recommend portioning out your cookie dough when freezing so you can take out a little at a time whenever a craving hits! 
To portion out your dough, line plastic wrap in an ice cube tray enough so that it can go down all the wells. Fill each well with cookie dough and freeze for 2 hours. Remove the cookie dough cubes and place them in an airtight container. 
I love eating cookie dough when it is still frozen, but if you want to thaw it, leave it out for a while and it will soften as the butter in it softens. 
More cookie dough recipes
If you love eating cookie dough as much as I do, you will want to try out these other recipes asap.  This edible cake batter cookie dough is one of the most popular recipes on the site along with my edible brownie batter. If you want something simple and fun, my edible sugar cookie dough can't be beaten. For a fun twist, this red velvet cookie dough is amazing. For something dippable, this monster cookie dough dip is so good.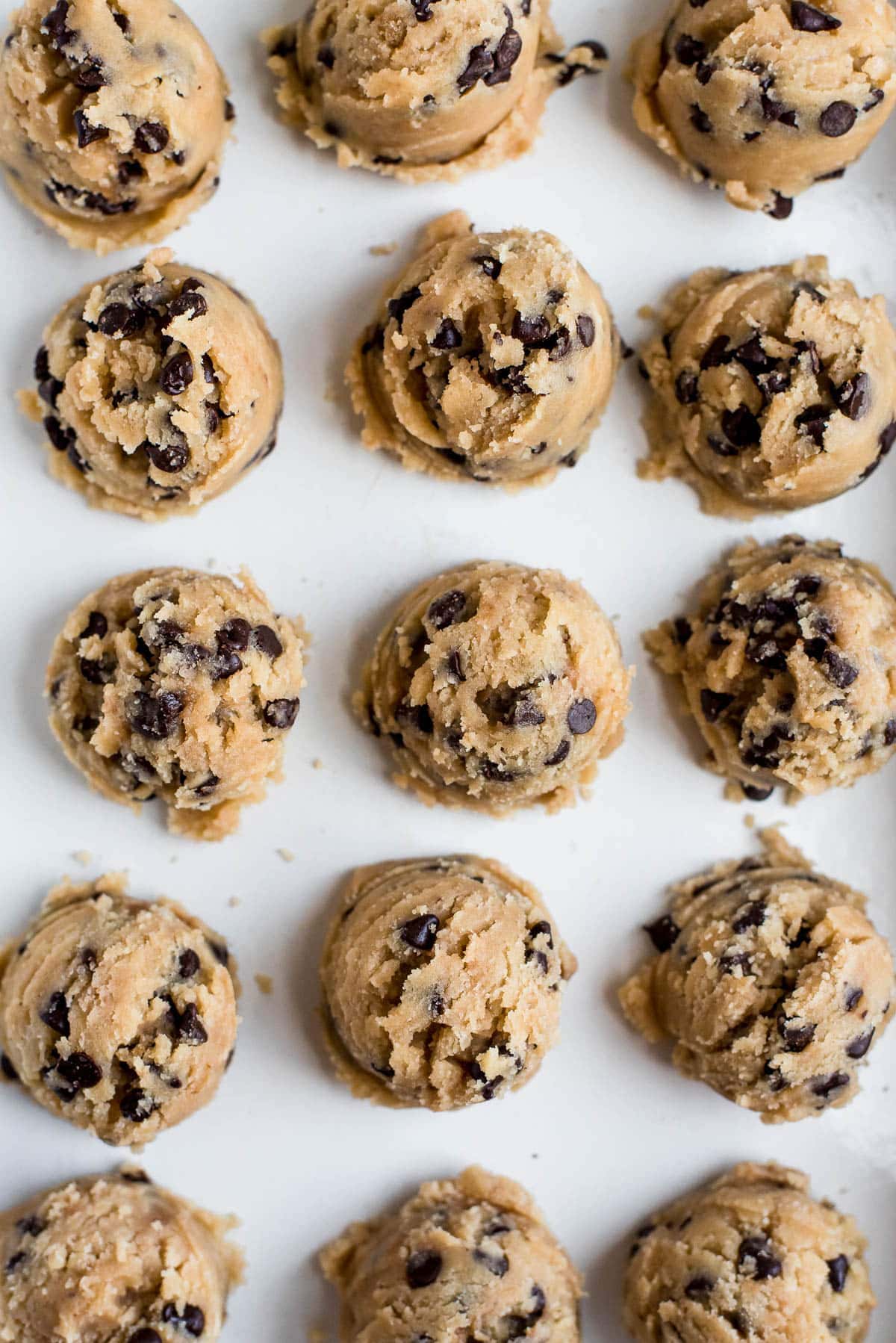 Yield: 12 servings
Edible Chocolate Chip Cookie Dough
This edible cookie dough is the best thing you will make. Easy, delicious, and completely risk-free!
Ingredients
1/2 cup unsalted butter, melted
2- 3 tablespoons heavy cream
1/2 cup firmly packed brown sugar​
1/4 cup granulated sugar​
1 teaspoon vanilla extract​
1 1/4 cup all-purpose flour​
1/4 teaspoon salt​
1 cup mini chocolate chips
Instructions
Melt the butter and mix it with the heavy cream.
Add in the brown sugar, granulated sugar, and vanilla. Stir well.
Add in the flour and salt. Mix well.
Stir in the chocolate chips.
Notes
Make sure the flour you use is heat-treated as described in the post.
Substitute the mini chocolate chips for any other of your preferred chocolate chips or chopped chocolate.
Store in an airtight container.
Nutrition Information:
Yield:
12
Serving Size:
1
Amount Per Serving:
Calories:

244
Total Fat:

14g
Saturated Fat:

8g
Trans Fat:

0g
Unsaturated Fat:

5g
Cholesterol:

25mg
Sodium:

50mg
Carbohydrates:

31g
Fiber:

1g
Sugar:

20g
Protein:

2g
The post Edible Chocolate Chip Cookie Dough appeared first on A Cookie Named Desire.