Reuben Salad + Homemade Thousand Island Dressing
Now that Valentines day is over, we can move onto the next holiday on the list. St. Patricks Day! I say it every year, St. Patricks Day is one of my top three holidays. Partly because Im Irish and partly because its my dads birthday! Being as my little one strangely loves corned beef, I decided to make some WELL ahead of time, and honestly Im not sure why I dont make it more often through the year.
I decided to use up the leftover corned beef to make this Reuben inspired salad. It has all the makings of a reuben sandwich in the form of a salad. Making it a perfect low carb, keto friendly and gluten free way to enjoy a reuben!
This salad starts out as most do, with green leaf lettuce. I then used leftover corned beef that I had on hand, but you could also used corned beef from the deli. Just but it thick cut and cube it up yourself at home. I then added sauerkraut, swiss cheese, and some cherry tomatoes for some relief from the sickness of the homemade thousand island dressing.
That thousand island dressing is lightened up by way of greek yogurt and a few other substitutions. It tastes great and is of course the perfect dressing to pair with this reuben salad. I added some rye chips as garnish to give the salad a bit of a crunch in place of croutons.
You could make this salad ahead of time or even use it as a meal prep for lunches during the week, just be sure to keep the dressing separate from the salad until youre ready to enjoy.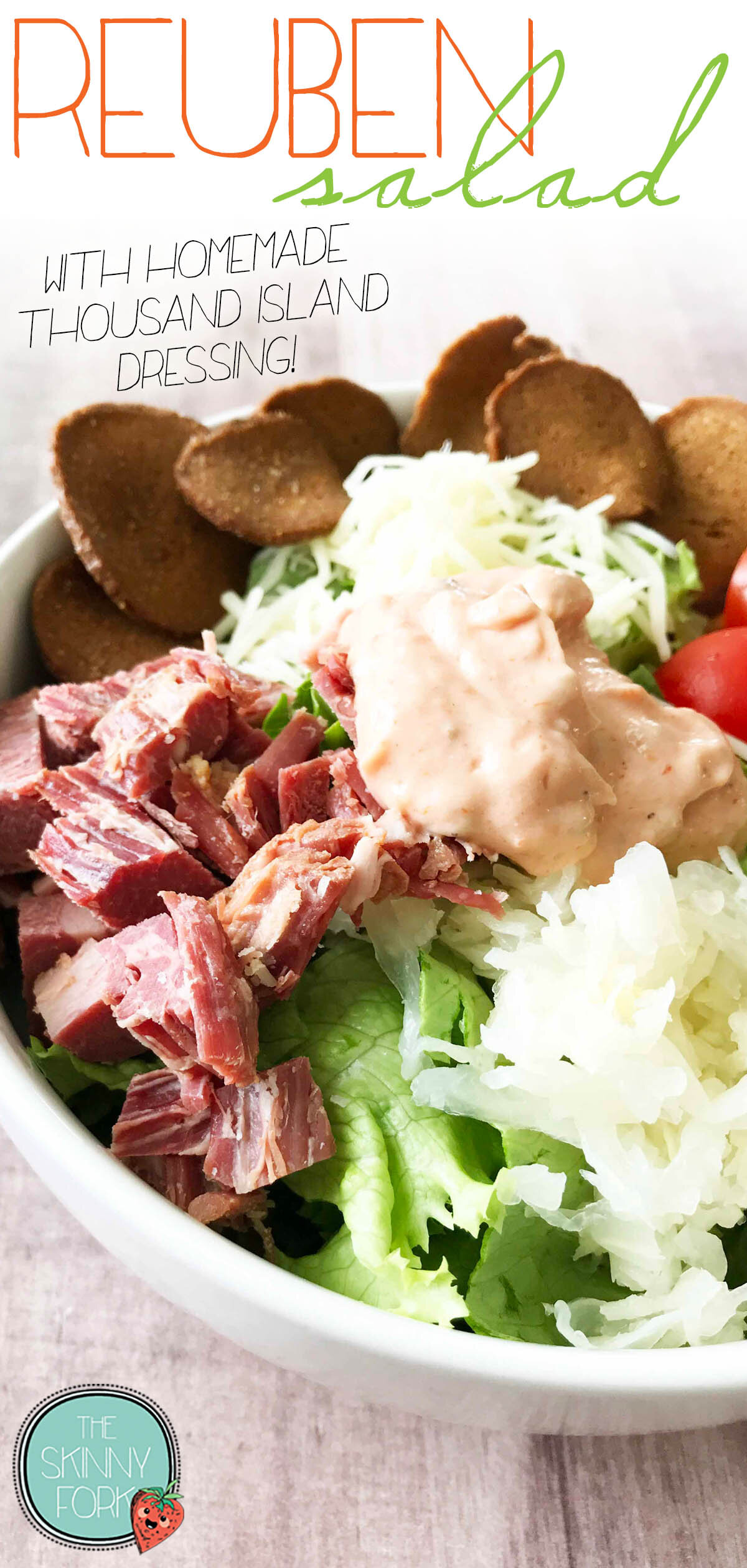 Reuben Salad + Homemade Thousand Island Dressing
TheSkinnyFork.com
This Reuben Salad is basically a reuben sandwich in a bowl. Corned beef, swiss cheese, sauerkraut, and a homemade thousand island dressing!
Prep Time:
10 Minutes
Cook Time:
0 Hours
The Skinny:
Servings: 8
Serving Size: 1 Prepared Salad
Calories: 237
Fat: 15 g
Saturated Fat: 5 g
Carb: 9 g
Fiber: 2 g
Protein: 16 g
Sugar: 5 g
Sodium: 812 mg
Ingredients:
Thousand Island Dressing:
1/2 C. Plain Fat Free Greek Yogurt
1/4 C. Light Mayonnaise
2 Tbsp. Low Sugar Ketchip
3 Tbsp.. Tomato Puree
1 1/2 Tbsp. Relish (Sweet or Dill)
1 Tbsp. Minced Onion
1/2 Tsp. Apple Cider Vinegar
Salt & Pepper to Taste
Salad:
16 C. Chopped Green Leaf Lettuce
1 Lb. Cooked & Cubed Corned Beef
1 C. Sauerkraut
16 Cherry Tomatoes, Halved
1/2 C. Shredded Swiss Cheese
Optional: Rye Chips for Garnis
Directions:
Place all of the ingredients into a bowl or large cup and stir together until well combined.

Place about 2 cups of lettuce into each salad bowl or plate. Divide the 1 Lb. corned beef, 1 C. sauerkraut, 16 cherry tomatoes and 1/2 C. swiss cheese evenly among the salads. together until well combined.

Serve each with about 2 Tbsp. of the prepared dressing. together until well combined.

Garnish with rye chips if desired and enjoy right away!
Step-by-Step Photos:
Nutritional Claims:Low CarbKeto FriendlyGluten FreeWheat Free Peanut FreeTree Nut FreeSoy FreeFish Free Shellfish FreePork FreeCrustacean FreeCelery FreeSesame FreeLupine FreeMollusk Free Alcohol Free