Add a kick to your dishes with homemade sweet hot mustard! It's a delightful blend of heat and sweetness that will awaken your taste buds. Perfect as a dipping sauce, for charcuterie boards, or sandwich spread, it's a versatile addition to your culinary arsenal. It's also an excellent DIY gift for foodie friends or mustard lovers. Make your meals more exciting with a homemade condiment.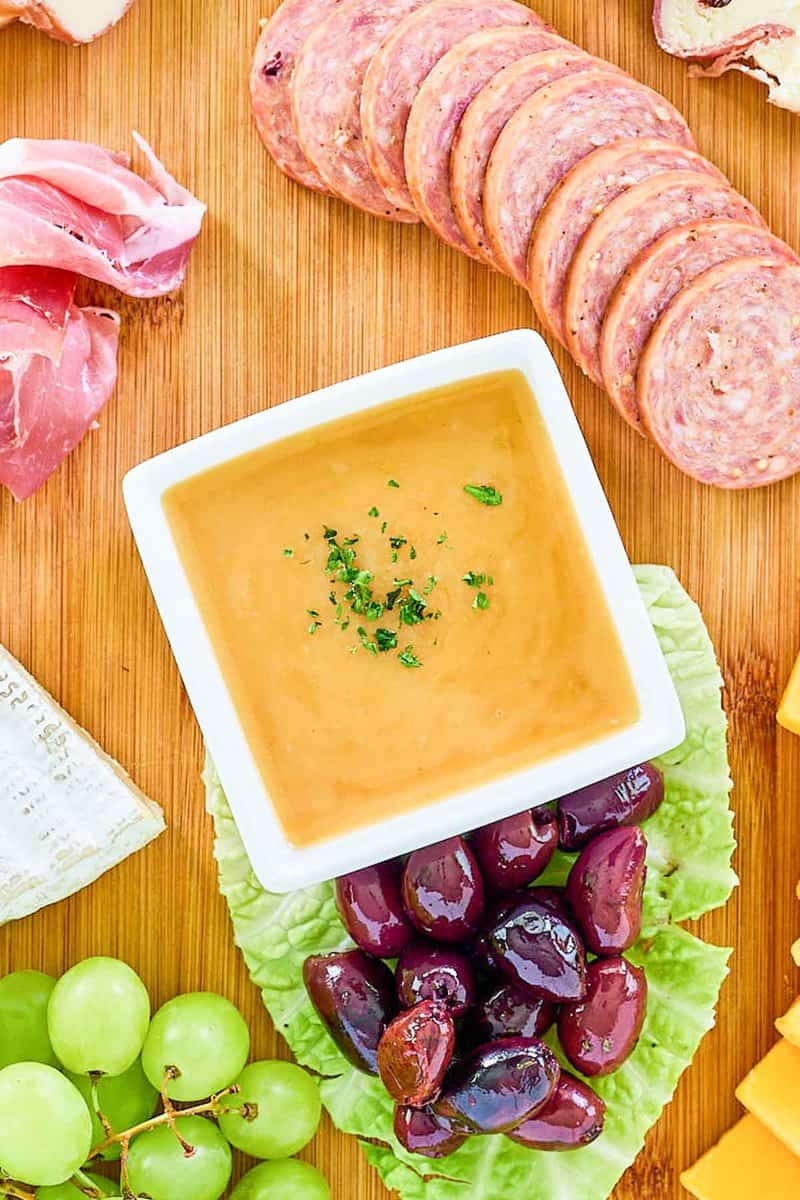 This post contains affiliate links. As an Amazon Associate, I earn from qualifying purchases.
Homemade Sweet Hot Mustard
Do you love sweet hot mustard? Growing up, this style of mustard was only available at the Swiss Colony shops that used to be in the malls. Today, you can buy this mustard ready-made – for example, Hickory Farms Sweet Hot Mustard. However, now you can recreate this mustard at home.
This delicious mustard is spicy, like a Chinese Hot Mustard you find in a Chinese restaurant, but the heat is toned down just a bit with the sweetness.
Why You Should Try This Sweet Hot Mustard Recipe
Hot sweet mustard is a great treat. It's perfect for when you want spicy mustard, but with the added sweet touch; you can enjoy it to your heart's desire without getting overwhelmed by the heat.
When you make things from scratch at home, you can really control what is in your food – you can knock out all the chemicals! And this recipe is also a way to make a fair amount of this gourmet mustard inexpensively. Once you try this sweet hot mustard recipe, you will want to always keep a jar in your fridge!
What can sweet and hot mustard be used on? You are only limited by your imagination! See below for some ideas.
This hot sweet mustard also makes a perfect hostess gift or a wonderful gift for friends and family members, especially serious mustard lovers. Think about presenting it in a cute little glass jar with a small tin of very thin toasts that have been buttered and sprinkled liberally with sesame seeds and dried in the oven until they've achieved golden cracker status.
Remember to attach a recipe tag with the recipe because whoever you give this to will be asking for it!
Hot Sweet Mustard – Ingredients You Will Need
A recipe can't get much simpler than this. This sweet hot mustard recipe uses just four basic ingredients, as follows:
Powdered mustard
Vinegar
Sugar
Egg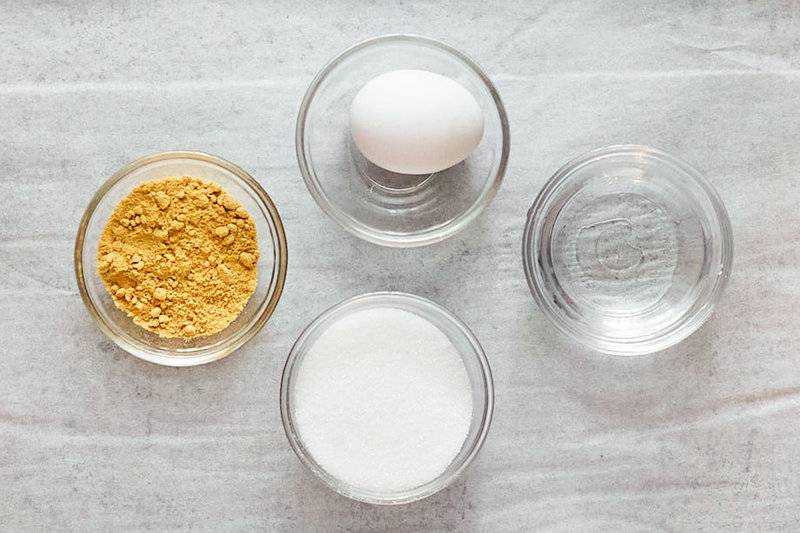 Ingredient Notes
Mustard: If you have a grocery store that has mustard powder in the bulk section, you can get the main ingredient for less. I really like Coleman's Mustard because it seems to pack more heat than other brands.
Sugar: Granulated sugar will help structure the mustard. Using powdered sugar (if that's all you have) would not be ideal. If you want to substitute honey or agave for the sugar, use a bit less than a 1 to 1 ratio.
How to Make This Sweet Hot Mustard Recipe
This hot sweet mustard tastes similar to Hickory Farms Sweet Hot Mustard. It's very easy to make – here are the simple steps:
Whisk together the vinegar and mustard powder.
Cover and let sit overnight.
Whisk to combine the mustard mixture, sugar, and egg.
Place over medium heat and cook until the mixture reaches 165°F for a few minutes.
Remove from the heat. While still hot, use a fine strainer to ensure maximum smoothness.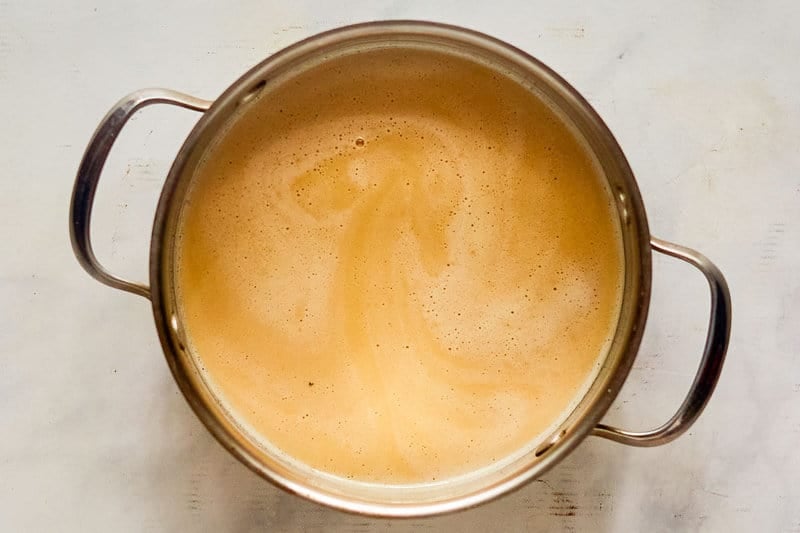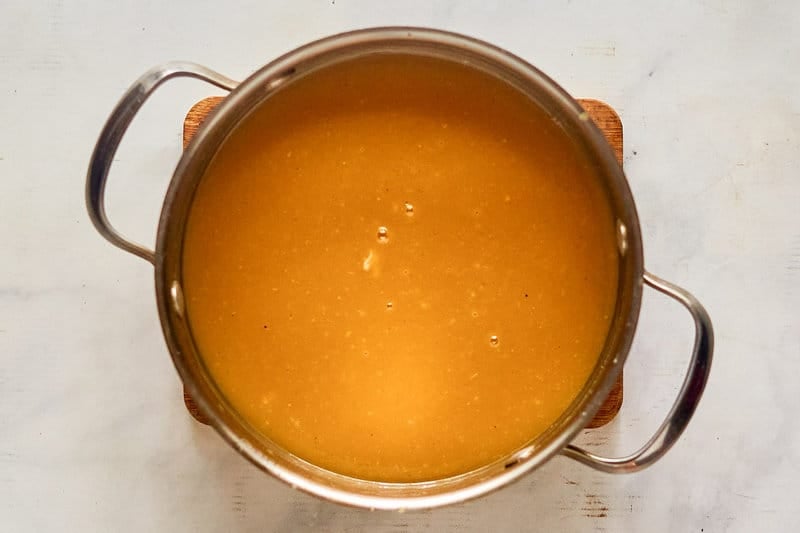 Note: You need to combine the vinegar and powdered mustard in a non-reactive bowl and let it sit overnight. This will give the mustard a chance to become a little less harsh when you first try it, as the flavor will mellow slightly.
How Hot Is This Mustard?
Well, this mustard is both sweet and hot. The sweetness comes first; then, you'll get a lingering heat. The heat isn't like hot pepper heat or buffalo wing heat; it's more like wasabi heat in that "clear your sinuses" type of way, but way much milder.
Bottom Line: This must-have mustard is a little bit sweet, a little bit hot, and totally delicious. Get ready for your taste buds to go WOW!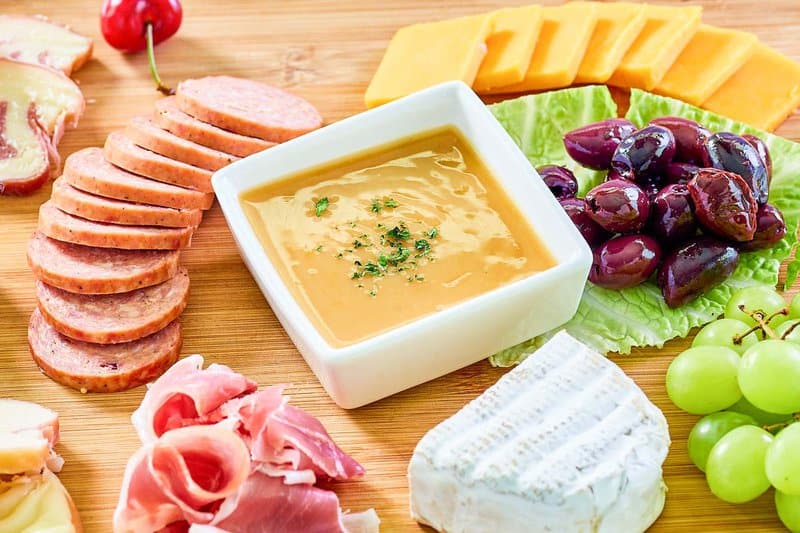 What Can Sweet and Hot Mustard Be Used On?
This thick, tangy mustard is perfect as a spread or a dipping sauce. This mustard is the perfect balance of sweetness and hotness and is full of flavor. There are so many ways to use this spicy sweet mustard. Here are some ideas:
Makes an awesome charcuterie board mustard.
A great condiment for baked ham.
Livens up ham and corned beef sandwiches.
Sausage really needs this mustard, especially savory summer sausage.
Makes kielbasa bites taste even better.
A dipping sauce for pigs in a blanket or chicken nuggets.
Topping for hamburgers and hot dogs.
It's great with freshly baked pretzels.
Pour some over a cube of cream cheese and serve with homemade crackers – delicious!
Mix some into salad dressing.
Try rolling chicken breasts in this mustard and then panko crumbs for a simple dinner.
How to Store Sweet and Hot Mustard
Store this sweet hot mustard in a non-reactive airtight container in the refrigerator for up to 4 weeks.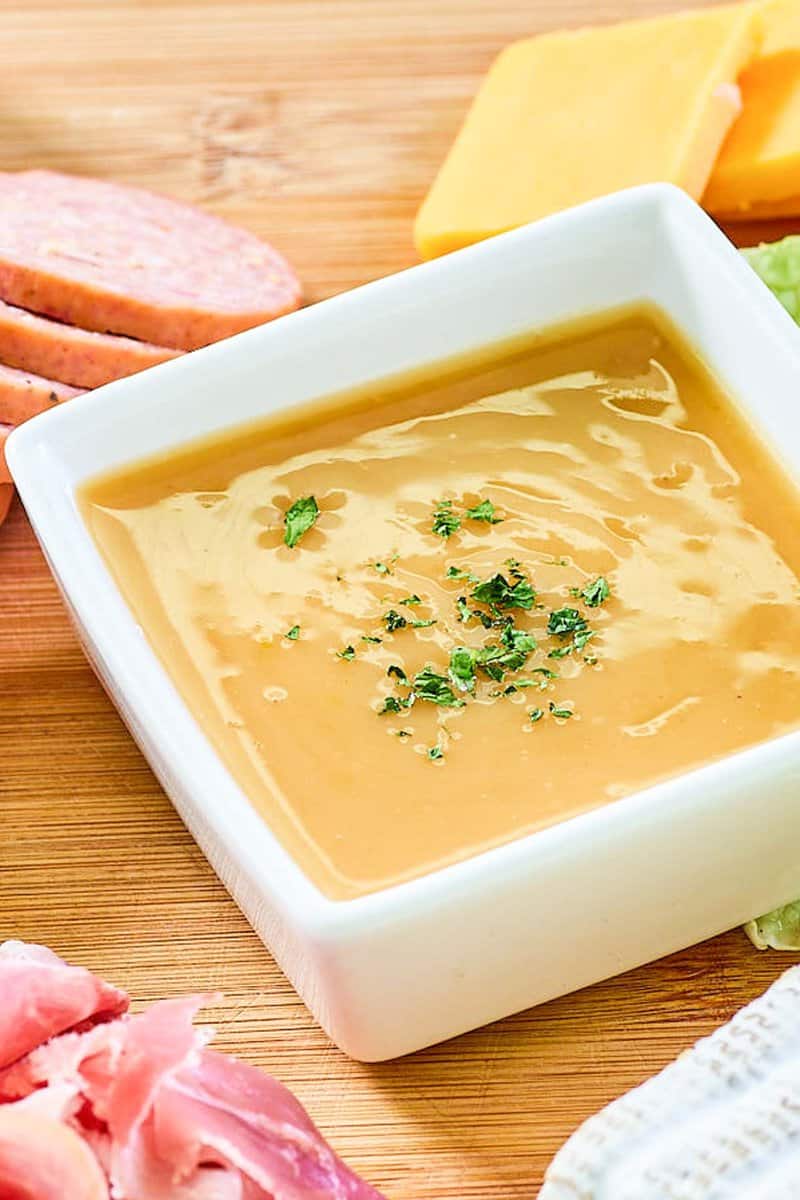 More Homemade Mustard Condiments and Sauces
Recipes with Mustard
Popular DIY Recipes
Check out more of my easy sauce recipes and the best DIY recipes on CopyKat!
Print
Add to Collection
Go to Collections
Sweet Hot Mustard
Sweet hot mustard makes a great gift. 
Keyword
Sweet Hot Mustard
Ingredients
1

cup

vinegar

white distilled is fine to use

4

ounces

dry mustard powder

1

cup

sugar

1

large

egg
Instructions
Whisk together the vinegar and dry mustard powder in a nonreactive bowl. Cover the mixture and let it sit overnight.

In a small pot, combine the mustard mixture, sugar, and egg and whisk to combine. Place the pot over medium heat and cook until the mixture reaches 165°F, using a candy thermometer to monitor the temperature. Hold the mixture at 165°F for a few minutes, adjusting the heat as necessary. Remove the pot from the heat.

Store the sweet hot mustard in an airtight container in the refrigerator for up to 4 weeks.
Video
Nutrition
Calories:
29
kcal
|
Carbohydrates:
6
g
|
Protein:
0
g
|
Fat:
0
g
|
Saturated Fat:
0
g
|
Cholesterol:
6
mg
|
Sodium:
2
mg
|
Potassium:
2
mg
|
Sugar:
6
g
|
Vitamin A:
10
IU
|
Calcium:
1
mg
|
Iron:
0
mg