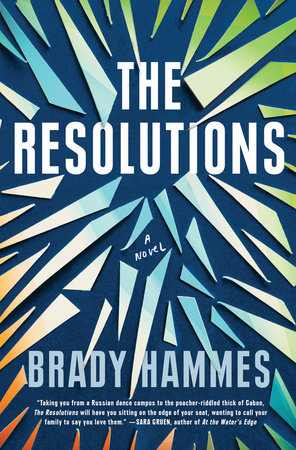 She stood in a thicket of trees at the edge of campus, this place she now called home, a Russian dance company two hundred kilometers northeast of Moscow. The sun hung low in the sky, dropping with the temperature, and her toes were numb from hiking through snow. She'd been gone all afternoon, and now she was late for the dinner party, which posed a significant problem because pro-longed absences didn't go unnoticed at a place like this. Nikolai, the director of the company, presided over his dancers with the omni-science of a cult leader, and Sam knew she would need a good excuse to explain her disappearance. Unfortunately, no one was buying her excuses anymore.
Nikolai's father was a steel oligarch who had purchased the estate as a summer retreat for his family, but then the family stopped speaking to one another so Nikolai claimed it for himself. He amassed a roster of choreographers and dancers from across the globe, and hired a team of contractors to refurbish the grounds. He erected a dozen small cottages—little two-bedroom units the dancers shared—and commissioned a famous architect to design the studio space, a three- thousand-square-foot glass cube situated amid dense conifer forest. Nikolai referred to the property as Château Oksana—named for his mother—but everyone else called it campus. Sam imagined it was the closest thing she would ever have to a proper college experience, probably not so different from those fancy private academies in New England. She slept in what was essentially a well-appointed dorm room, attended classes at a rehearsal space rather than a lecture hall, and took her meals in an upscale cafeteria. Even now, in mid- December, everything blanketed in a foot of snow, the grounds were impeccably groomed, the sidewalks brushed and cleared, the trees hung with decorative lights. There was an onsite staff to attend to the dancers' needs, nothing more than a phone call away, yet it was a suffocating kind of luxury, like being held hostage at Versailles.
At the center of campus was the grand manor, a ten-thousand-square-foot palace that served as the social hub. She watched a procession of black SUVs unload passengers at the entrance, where Nikolai stood greeting a parade of sparkling men and women in formal attire. When he turned to kiss the cheek of an elderly, silver- haired woman, Sam made a break for it, sprinting past the rehearsal space and the gym and finally to her cottage. Once inside, she threw her coat on the bed and removed the small baggie printed with smiley faces. Restraint was not a thing she normally possessed in moments like this, but she was late and she needed to keep her head up through the party, so she stashed the baggie at the bottom of her sock drawer, a reward deferred. She moved to the bathroom and did a quick pass of makeup before slipping into a sleeveless black dress. She dabbed concealer on her forearm to mask the bruise, then looked in the mirror one last time, a woman with a question.
Can you do this?
Sam stepped outside and hurried toward the ballroom, her heels clacking against the sidewalk, her shoulders burning against the wind. She should have brought a coat, but her head was not clear, and when her head was not clear, she forgot things like coats. It had been two days since she'd gotten high, and that was a problem.
She dabbed concealer on her forearm to mask the bruise, then looked in the mirror one last time, a woman with a question.
Once a month, Nikolai threw a formal dinner party at the estate. He invited colleagues from the ballet world as well as friends from Moscow, mostly men who enjoyed mingling with the dancers. A few of the guests came for legitimate reasons, but most—the musicians, the minor celebrities, the baggy-suited hedge fund managers—came to gawk and make lewd sexual innuendos about "first position." Sam found the events reprehensible, as if she were part of a parade of dancing prostitutes. At the last party, she poured a glass of Chianti on the head of a sweet- talking investment banker after he put his hand on her ass and whispered stunning into her ear. After the incident, Nikolai placed her on an informal probation to ensure a similar embarrassment didn't befall another of his guests. Sam, however, made it clear to him that the best way to prevent future incidents was to instruct his guests to keep their fucking hands to themselves.
She'd been summoned to tonight's party to meet a new choreographer Nikolai had recruited, though most of the names he'd promised had yet to materialize so she wasn't expecting much. The two productions the company had mounted since her arrival had been savagely reviewed, which Sam attributed to their hack choreographers, one of whom was plucked from the Russian equivalent of Dancing with the Stars. The company's cachet had taken a blow in recent months, and Sam knew Nikolai needed a win as much as she did.
She entered the hall and scanned the crowd. Her arrival had drawn little notice and for this she felt a speck of relief. An old man was butchering Vivaldi on the piano, and tuxedoed waiters floated around the room with trays of hors d'oeuvres that appeared untouched. A few girls in tall heels and short dresses were huddled at the bar, cocktails in hand, chatting in a language she'd made no attempt to learn. She looked around the room: the crystal chandelier hanging from a forty- foot ceiling, the nineteenth-century watercolors adorning the walls, the Steinway piano. It was all somewhat surreal in its extravagance: the campus, the catered meals and personal trainers, even this dress she was wearing, a dress she hadn't paid for but that probably cost more than most people made in a week, maybe a month. Her talent had shown her so much of the world, taken her so far—Chicago to New York, New York to Moscow—yet she still felt as if she'd been pulled into a terrible black void.
"You're late to the party," Nikolai said.
Nikolai was close to six and a half feet tall, with a mane of blond hair working its way toward white. He wore a tuxedo and an ostentatious watch and glossy crocodile shoes. Everything about him seemed to be cut from the finest, most expensive cloth, and he made sure to flaunt this air of elegance to everyone he met.
Nikolai stared at her, waiting for a response. "Samantha?"
She took a sip. "Yes?"
"Do you need help?"
She shook her head.
Nikolai looked at the purple mark stamped across the inside of her forearm. She'd missed her vein a week ago and the bruise lingered, despite her rushed attempt to conceal it. "What happened to your arm?"
"I fell," she said, turning slightly away from him.
Nikolai scoffed.
"I slipped on some ice walking down the stairs and hit it on the handrail." It was a quick, convincingly crafted piece of fiction, for which she felt a small burst of pride. "You should talk to the maintenance guys about that. It could have been much worse."
"You know what it looks like to me?" Nikolai asked.
"Like it hurts? Not too bad actually. It did right after it happened, but not so much now."
He shook his head, unamused. "We have a zero-tolerance policy here."
"Got it," Sam said, hoping to end the conversation. Nikolai wasn't worried about her well-being so much as the troublesome press that would result from one of his dancers dying of a heroin overdose. Sam had become a liability, a neighborhood kid sneaking onto his trampoline, and his interest was only in preventing an incident that might reflect poorly on the company. Nikolai treated his dancers like collectible glass figurines, and it was laughable to imagine he was concerned about anything other than protecting the value of his assets.
"There are people you can talk to if you don't think you can do it on your own," Nikolai said. "I can bring someone in to meet with you. No one has to know."
"I fell, Nikolai," she said, growing exasperated. "I don't know what you want me to say. It's winter. It's icy. I'm a klutz."
"You're not a klutz, Samantha," he said evenly. "You're a dancer. And I suggest you start acting like one." He turned and walked toward the dining hall.
Nikolai wasn't worried about her well-being so much as the troublesome press that would result from one of his dancers dying of a heroin overdose.
It was his voice that first caught her attention: North American English with a subtle Canadian accent. He looked a little older than her, maybe mid-thirties, with sharp cheekbones and a rush of black hair. He sat across the table, chatting with a few of the dancers, his gaze alternating among them in the charitable manner of someone trying to pay his listeners equal attention. Through some not so subtle eavesdropping, Sam learned that his name was Max and that he was working on a new piece for the company. Then he laughed, saying he was unsure if that was information he was allowed to divulge. Sam listened closely, maybe a little too closely. After a moment, he interrupted himself to acknowledge her gaze. "Hello," he said. "I'm Max."
"I know," Sam said.
"You've been listening."
"Is that okay? I'm bored." The other girls eyed her suspiciously, seemingly annoyed by her entrance into the conversation.
"Bored with my story or bored with the dinner?"
"The dinner mostly." She raised her hand in greeting. "I'm Sam by the way."
"Yes," Max said. "I believe we'll be working together."
"Something new I hope?"
"Yes, though I'm not sure I should be discussing it." He looked around the table. "Here at least."
"Because it's top secret?"
He smiled. "Something like that."
"Max's Top Secret Ballet."
"It's a working title."
"I should hope so," Sam said, punctuating the conversation with a sip of champagne.
Dinner proceeded slowly. There were five courses, followed by coffee and a toast from Nikolai, who thanked everyone in that disingenuous tone of his, which was really meant as veiled praise for himself, the man responsible for everything around them. When dinner adjourned and the crowd filtered back into the ballroom for another round of cocktails, Sam ordered a vodka tonic and settled into a quiet corner of the room, wondering how much longer she had to suffer through this before making her escape. A moment later, Max wandered over, holding a tumbler of whiskey.
"Has Nikolai told you anything about my piece?" He leaned back against the wall, which seemed to put him at ease.
"Nope." She looked down at his shoes: black leather cap toe oxfords with white rubber soles. A girlfriend had once told her to judge a man by his shoes, so she was doing it now. She ruled in his favor.
"I'll explain it to you when we meet tomorrow," he said. "But I'm excited to get started. I've been wanting to work with you for some time."
"Really?" she asked.
"Of course. Why do you think I came here?"
"I assumed for the cheery weather."
"There was that, of course, but I've actually been watching you dance for years. I remember seeing you in Scotch Symphony a couple years ago and was impressed."
It had been a long time since anyone had paid her a compliment, and she wasn't sure what to do with it. But before she had a chance to savor the kind words, Nikolai arrived and broke the spell. "I take it you two had a chance to meet," he said.
"We were just getting acquainted," Max said, smiling, quickly recovering his composure.
"Wonderful!" Nikolai placed a hand on Max's shoulder. "I know Sam is ready to get to work. All of the dancers are. The company is fortunate to have you here."
"I should get going," Max said, "but I'll be in the studio at ten."
He looked to Sam. "I'll see you then?"
"You will." She watched Max disappear into the crowd.
"What do you think of our new guest?" Nikolai asked. The faux cheeriness he'd displayed around Max was replaced with the disapproving tone Sam had come to expect.
"He seems great," she said. "Not sure why he agreed to come here, though."
"You came."
"Have you thought about our conversation?"
"Was that a conversation?" Sam asked, avoiding his stare. "It seemed like a threat."
"Let's call it an ultimatum." Nikolai waved to a guest across the room, then turned his attention back to Sam.
"Call it whatever you want," she said, "but he already told me I'm a big part of why he came here. So I'd say that gives me the upper hand."
"Don't flatter yourself. There are a lot of great dancers here. You're replaceable."
"Maybe," she said. "But he's not."
"You're right about that. Which is why you should clean up your act before you ruin what little bit of goodwill you have left."
Sam finished her drink, then stalked across the room and out into the night. Her relationship with Nikolai had always been contentious, but the animosity between them had intensified. The unfortunate reality was that they needed each other—Sam being one of the most talented dancers at the company, and Nikolai being the only person willing to give her another shot. She'd worked with difficult men before—that wasn't a problem—but it was the constant harassment that she found so infuriating. She didn't need to be lectured about her drug use, especially from someone like Nikolai, whose penchant for scotch and cocaine was equally noxious. Besides, she was already planning to stop using. She'd gotten herself into this situation and she would get herself out, and no amount of badgering was going to expedite that process. She would do it on her own terms, when she was ready. Just not today. Or tomorrow. Maybe after the New Year. Maybe that would be her New Year's Resolution. A resolution for the irresolute.
She hurried back to her cottage, past the frozen duck pond and the maintenance building, where, in warmer months, the gardeners played dominos. It was cold and getting colder. Having grown up in Chicago, she was used to winter weather, but this Russian winter was a whole new thing: the snow deeper, the days shorter, the mood darker. When she arrived at her place, she shook the cold from her body, went to her room, and closed the door. Tomorrow she would arrive at the studio on time and commit herself to the work in a way she hadn't in a long time, because hope had arrived in the form of a handsome choreographer who believed in her talent. Good things would happen tomorrow, but tonight she needed to regain her equilibrium. She needed to clear her head. She dropped her dress on the floor and changed into sweatpants and a T-shirt, then grabbed her makeup bag from the dresser and arranged her tools on the bed: the spoon, the needle, the rubber tourniquet, and, most important, the drugs she'd spent her afternoon in search of. She set a flame to the spoon and brought a dose to boil, then let the needle drink it up. She tied the tourniquet above her elbow, tapped a good vein, and shot a stream into her arm, feeling suddenly, impossibly pleased.
__________________________________
Excerpted from The Resolutions by Brady Hammes. Reprinted with permission of the publisher, Ballantine Books.