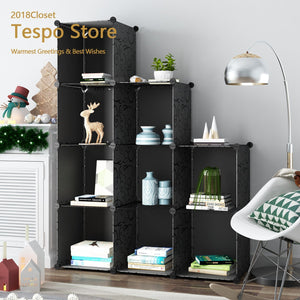 9-Cube Modular DIY Storage Cube Organizer by Tespo 4 tier Shelving Bookcase Cabinet Closet Black (9 - Regular Cube)
---
Product Details
Product Dimensions: 44 x 14 x 58 inches
Item Weight: 14.11 pounds
Shipping Weight: 15.3 pounds
Manufacturer: Ya Hua Shu Jia
Item model number: CB04KB.
【MULTIFUNCTIONAL DIY】Modular shelving. Portable and can be personalized to your needs. Suitable for pantry items, folded clothes, shoes, books, toys, artworks, fabric drawers, etc.
【STURDY CONSTRUCTION】Can hold 22 lbs each cube. Supported by resistant wire girds, resin panels, and ABS connectors.
【QUICK & EASY ASSEMBLY】Tool-free assembly with easy-to-follow steps from our detailed instruction and teaching video.
【HASSLE-FREE MAINTENANCE】Dust-resistant closet. Water-proof panels. Easy to clean.