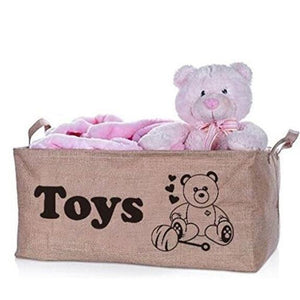 Do you wish for an organized, clean and spacious playroom for good?
Are you exhausted from the never-ending collecting toys all over the house?
Are you tired of searching for millions of small tiny pieces everywhere?
Are you frustrated by losing priceless pieces of puzzles, Lego, play-mobile, etc.?
Keeping your playroom and house organized
Very large storage basket for many big toys and small storage bag for small ones Helping your children tidy by themselves
Stable, big, placed on the floor and easy to carry from one room to another
Making your room stylish and pretty
Beautiful, decorative and colorful basket with a cute extra small bag that matches
Condition:
New
Warranty:
30 Day Warranty
Features:
Made in USA and Imported
GENEROUS SIZING EXTRA LARGE – the Largest size without losing wall strength - (22" L x 15" W x 10" H) are made for large toys that clutter your space. Stronger than the competition!
ECO-FRIENDLY, YET TOUGH DURABLE MATERIAL – Our BabyLuv Storage basket/organizer is made of 100% JUTE material. This bin comes with double secured handles that are both sewn and riveted. Nontoxic "storage" ink.
MULTI-USE - EASY TO USE SPACE SAVER AND PRACTICAL- Waterproof inside for outdoor toy storage, bath, and pool toy organizer, dog toy basket, book and toy basket for kids, toy car storage, playroom bins for toys, pillows and throws storage, and more!
STYLISH STAND ALONE ORGANIZING BIN- Freestanding, collapsible wire-framed for stability, storage organizing container that's great to use for nursery, kids bedroom, baby boy or girl nursery, child bathroom, diaper changing table, cube organizer, living room, bureaus, cabinets, shelves to easily create neat, tidy and clutter-free living space.
Dimensions a very large XL Size - 22" Length x 15" Width x 10" height
The storage bin can hold anything from toys, puzzles, books, blankets, pillows, clothes, and anything else you can imagine
Waterproof design - this fold-able storage basket is designed to last - very easy to clean
Jute(burlap) and strong metal framing material for stability and strength
Fold-able/collapsible for quick and easy storage when you don't need it! takes less than 2 seconds!
Reinforced handles to ensure they don't break when the storage bin is full
Packaging:
Retail
What you get:
One [1] Extra Large Storage Toy Basket