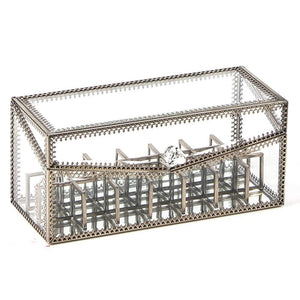 Brand: J&C
Color: Copper
Features:
✔️TRAPEZOID ONLY - Spacious and dust proof, L*H*W:26*19.5*24CM (10.24"*7.68"*9.54"), the compartments hold necklaces, bracelets, rings, earrings, watches, etc anything about your collection.
✔️ YOUR DREAMING MAKEUP ORGANIZER - Display your everyday essentials: hair products, deodorant, facial scrubs, lotions, cleansing towels, etc - Showcase your beauty must haves: lipsticks, foundations, bronzers, blushes, eye shadows, primers, powders, perfume collection and much more - Can also be used to store jewelry and personal accessories.
✔️ HANDCRAFS DESIGN - A practical and decorative retro-styled jewelry box to compliment your personal dresser or nightstand, Exquisite/Elegant Gift for Birthdays, Christmas, Weddings, Anniversaries, or any Special Occasions.
✔️ STYLISH & MODERN - A sleek translucent open-concept compartment with lift-top slanted lid clearly defines your beauty collection for an effortless view - Complements any style of décor and looks great in the bathroom, bedroom, beauty closet, storage room, etc.
✔️ DURABLE MATERIAL - 5MM Thick Glass and Copper bar plating, 100% NON-TOXIC AND DUST FREE, ideal for somebody who appreciates exclusive-looking home decor items - be them for own COLLECTION or for GIFTS to very good friends.
Publisher: JC
Details:
Can't find enough space for all your beauty products cluttering your dresser and bathroom?
Make your life a little bit easier and more glamorous with J&C A glass Cosmetics Makeup and Jewelry Storage Case Display Set that organizes all your favorite makeup essentials into your own personalized makeup and cosmetics beauty counter! We have created a set that is sure to organize your favorite makeup essentials into a dazzling makeup set. This sturdy, glass makeup organizer set includes 4 individual organizers to fit various cosmetic items of varying sizes. The various organizers stable when stacked to fit properly and securely and easily detach to be used separately. This interchangeable design allows you to stack the organizers depending on your personal preference.
Why choose our glass makeup organizer ?
PREMIUM GLASS - Brush Holder Constructed of 5mm thick premium glass to guarantee sturdiness and long lasting durability.
ELEGENT LOOK - Classic design brush holder with vintage metal lace will shine your dressing table, ideal Christmas gifts, birthday gifts, anniversary gifts for your wife, girl friends or who loves makeup.
MULTIPLE FUNCTION - All kinds of makeup brushes will fit in it, you can also storage collections.
FILLER BEANS - White pearl beans compliments the esthetic of the brush holder as well as effectively keeping the brush standing straight and organized for easy access.
EASY TO CLEAN - This brush holder will make your life easier not only does it keep your brushes neat and tidy, but also very easy to clean. Simply dampen a cloth with a little soap and water, and wipe it down. Keep all of your brushes clean and catalogued with the use of our premium glass brush holder.
IDEAL GIFT - Ideal Birthday Gift, Christmas Gift ,Thanksgiving Gift, Novelty Gift, Wedding Registry Gift.
UPC: 729728310610
EAN: 729728310610