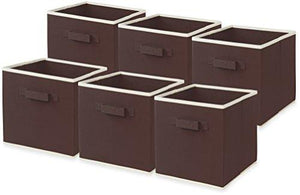 Collapsible bins to save on space when not in use

5 heavy cardboards (include bottom side) support each side for every bin

Lightweight and sturdy boxes perfect for organization

Easy access with the fabric drawer handle, compliments with cube storage organizer

Dimension: 11 H x 10.5 W x 10.5 D

Color : Brown
The Simple Houseware foldable fabric storage bin includes 6 pack bins which compliment with 6-cube, 8-cube, 9-cube, 12-cube closet cube organizer. It's a perfect solution for organizing kids toy, office supplies, clothes, media and craft supplies in the bathroom, office, kids room, closet or living room. The cube bin are made by nonwoven polypropylene and sturdy cardboard, easy to access and foldable when you don't need it.