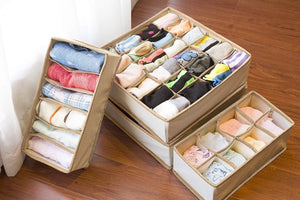 Brand: Simplized
Features:
★ DIMENSION. 13 ½"L x 4"H x 12"W = big 6 cell and 24 cell bins - 13 ½"L x 4"H x 6 ½"W = small 6 cell and 8 cell bins
★ EACH SET INCLUDES 4 ORGANIZERS. You can use the 24 cube cells for socks, stockings, ties, scarves or other accessories. The one with the 5 oblong cells can be used for underwear, larger scarves, or tanks. The one with the 7 longer oblong cells can be used for bras. Actually, the organizer can be used for almost anything, for a neat and organized, eye pleasing uniform look.
★ IT IS VERY COMPACT AND EASY TO SET UP when needed, and fold away when not used. Method: There is a vertical opening on the edge of each box. Please remove/install the cardboard pieces into these openings as needed. The fit should be secure and snug.
★ CLASSIFY UNDERWEAR, socks, neck ties, scarves, bras, accessories etc. Easy to find which one you want to wear without creating a mess. Or without to much rummaging.
★ Material: EVERYTHING IS MADE OUT OF NON-WOVEN BREATHABLE FABRIC, which is moth-proof, mold-proof, moisture-proof, and very durable. The removal square boards are made of cardboard.
Publisher: Simplized
Details: GET A DRAWER ORGANIZER THAT PROVIDES THE EASY STORAGE YOU NEED

Enjoy Little Pleasures Each Morning with The Right Selection

Avoid rummaging and creating a mess in the morning as you look for what to wear. Let our Collapsible Compact
Underwear Organizer solve your clutter problem once and for all. When you purchase our organizer, you place all
your boxes into your wardrobe or drawers and create an attractive and appealing easy to access space. Made with
a set of 4 organizers, you can use all the 24 available cubes for stockings, ties, socks, and scarves. You can use
the oblong cells for underwear or trunks. The remainder can be utilized for bras and other accessories. These
organizers are made for practically everything.

An eye pleasing uniform look
Pulling out a beautifully organized drawer of underwear in the morning after the shower is one of the life's little
pleasures. Letting your eyes select what to wear for that day creates quite a thrill. But it becomes a letdown when
you discover all your underwear scattered all over and unable to find. Being organized is a cool way when you have
the right tools. And our Underwear organizer happens to be precisely what you need. With the help of the
organizers available, take delight in laying out your bras and undies according to their color and type. You can place
your black bras at the front of the box, and put the most colorful ones at the back.

The distinguishing features:

-A compact drawer organizer that is easy to set up and fold.
-Long lasting boxes that are moisture-proof, mold-proof and moth-proof.
-Compact design for easy usage when it is not in use.
-A multi-purpose organizer that offers a nice looking look.
-The are easy to clean. you can wipe them with a dry or dump towel.
Count on this drawer organizer to solve your clutter problem. "Click "Add to Cart" Now!"
UPC: 789398803201
EAN: 789398803201
Package Dimensions: 14.0 x 8.9 x 2.0 inches