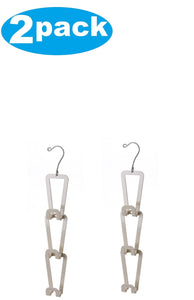 Brand: YBM HOME
Color: White
Features:
3 or 6 HOOK HANDBAG HANGER FOR handbags, satchels, slings, backpacks, scarves, pashminas, ties, belts, and other accessories
EASY ACCESS TO ALL YOUR VALUABLES IN ONE SPOT. No more stuffing your items in drawers on shelves or away in boxes, where you can't find them (or worse yet they get ruined!). Now it's easy to quickly find that favorite Handbags, Caps, Purses, Backpacks that goes with the outfit you're going to wear!
STORES AND ORGANIZES reusable shopping bags in the kitchen and pantry
EASILY HANGS OVER THE CLOSET ROD - No hardware required ,Made of durable steel with white finish Bag and accessory organizer is available with either 3 hooks or 6 hooks.
6 HOOK ORGANIZER MEASURES: 33.4 in. H x 3 in. W, 3 hook organizer measures: 15.7 in. H x 3 in. W
Publisher: Ybmhome
Details:
The Ybmhome Handbag Hanger features 3 or 6 hooks for handbags, satchels, slings, backpacks, scarves, pashminas, ties, caps and belts.
This closet organizer easily hangs over the rod or over the door or on the wall with no hardware needed!

Also great for storing reusable shopping bags in the kitchen or pantry.

Finally! A Great Way to Organize All Your handbags in One Place!
We sure love our Handbags! They are a great necessity for us ladies and we take them absolutely everywhere. But... what happens with our Handbag when we get home? Drop them on the floor, put them on a table, or leave them somewhere on the kitchen counter? The issue becomes how can you store all your favorite Purses, Handbags, Pocketbooks, Shoulder Bags, in one spot, where you can easily find that one purse or handbag that goes with the outfit you want to wear? And how do you keep them all organized, without hiding them away in boxes or stuffing them in drawers or on shelves?
The Perfect Solution - Ybmhome Hanging Chain with 3 or 6 Hooks Which is a Great Bag and Accessory Organizer.
It will conveniently organize your purses, shopping bags, scarves, hats or just about anything else close by. It keeps everything organized, germ free and off your floors, dressers, counter tops and work spaces! Our Bag hanger holds about 3-6 or 6-10 (depending what size you choose) bags or other accessories and fits nicely anywhere in your home.
Package Dimensions: 7.8 x 4.6 x 4.0 inches